Focke-Wulf Fw Volksflugzeug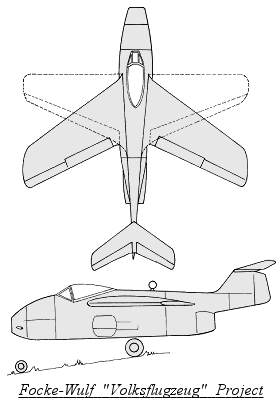 This aircraft project was proposed to fill the Volksjäger (People's Fighter) concept - a lightweight, easily constructed fighter that used very little strategic materials. The requirement for this small fighter was issued on September 7-8, 1944, to Arado, Blohm & Voss, Fieseler, Focke-Wulf, Junkers, Heinkel, Messerschmitt and Siebel. Of the aircraft companies invited to submit a design (please see table below), only Messerschmitt declined. Although the BV P.211 was judged the best, the Heinkel He 162 was chosen to begin series production because they had been previously working on a small fighter design, and had already constructed a wooden mockup. Focke-Wulf's design was made ready by September 18, 1944, only ten days after the specifications had been issued.
The Focke-Wulf design's fuselage featured a front air intake, which fed a single BMW 003A-1 jet engine located in the rear lower fuselage. Both swept and unswept wings were proposed for the Fw Volksflugzeug (People's Airplane). The tail was mounted on a boom above where the jet exhaust exited. Mounted on the top of the vertical tail, the tailplanes were swept back in both the straight and swept back wing versions. A single pilot flew the plane from a cockpit located in the forward fuselage, with the canopy offering good vision all around. Armament was to consist of two 30mm MK 108 cannon, all located in the nose and firing forwards.
Kurt Tank, the Focke-Wulf technical director, was not enthused about the Volksflugzeug concept. He thought that by the time this project was constructed and reached the front line fighting, it would be outclassed by Allied jets then coming into service plus the fact that the BMW 003 jet engine would be too weak in the long run. Thus, the Focke-Wulf Volksflugzeug design was not pursued.
All data in the tables below are for the swept wing version
Fw Volksflugzeug Project - Dimensions
Span
Length
Height
Wing Area
Aspect Ratio
7.5 m
26' 7"
8.8 m
28' 9"
2.85 m
9' 4"
13.5 m²
145 ft²
4 : 1
Fw Volksflugzeug Project - Weights
Loaded Weight w/660 kg (1445 lbs) of fuel
Max. Wing Loading
3050 kg
6723lbs
226 kg/m²
46 lbs/ft²
Fw Volksflugzeug Project - Performances
Max. Speed
Initial Rate of Climb
Endurance
Take Off Distance
820 km/hr @ 6000m
509 mph @ 20000'
14.5 m/sec
47.5' ft/sec
0.5 hours @ sea level
0.7 hours @ 10000 m
32800'
1000 m
3280'
Fw Volksflugzeug Models
There are no models currently of this aircraft
Volksflugzeug Designs
Company
Design Proposal
Arado
Ar E.580
Blohm & Voss
BV P.210
BV P.211.01
BV P.211.02
Fieseler
Data survives, but no drawings
Focke-Wulf
Fw Volksflugzeug
Junkers
Ju EF 123 (or EF124)- only known through a company model photos
Heinkel
He 162 - built and entered series production
Messerschmitt
Did not participate
Siebel
No technical data or illustrations have been found
---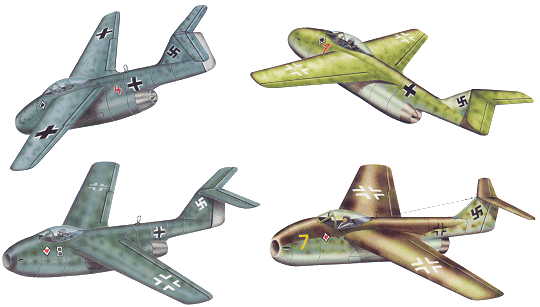 Above color illustrations:
Left - Geheimprojete der Luftwaffe- Jagdflugzeuge 1939-1945
Right - Luftwaffe Secret Projects-Fighters 1939-1945
by Schick & Meyer