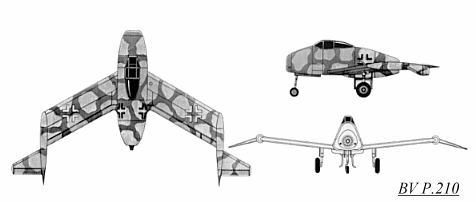 This was one of Blohm & Voss' entries in the Volksjäger Project competition in September 1944. Chief Designer Dr. Richard Vogt, assisted by Hans Amtmann, developed the BV P.210 from the BV P.208 tailless fighter project. The P.210 featured Blohm & Voss' usual tubular spar, which was the central air duct from which the other components were attached. The wings were swept back at 30 degrees, and had dihedral on the main wings with drooping wing tips. A single BMW 003A-1 jet engine provided the power, there was also optional rocket takeoff assistance. The landing gear was of a tricycle arrangement, with the main gear being attached to the wing spars and retracting inwards and the front gear rotated 90 degrees to lie flat beneath the air intake duct. Armament was to be either two MG 151/20 20mm cannon or two MK 108 30mm cannon in the nose.

View Andreas Otte's BV P.210 images
Span: 11.52 m (37' 9.5") Length: 7.34 m (24' 1") Max. Speed: Unknown
---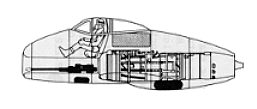 A cutaway view of the BV P.210 single-seat fighter, showing the location of the guns and engine. Also notice the ventral bulge for the main wheels to lie flat....



A BV P.210 single-seat fighter in operational colors....
All images this page form Reichdreams # 15, "Bats", by J. Miranda & P.Mercado