Note: The Ju EF128 booklet is now sold out. Thanks to all who made this booklet a success!
LPA Booklets Page
LPA #1: Ju EF128 Reviews
LUFTWAFFE
PROJECT AIRCRAFT
Number 1: Junkers Ju EF128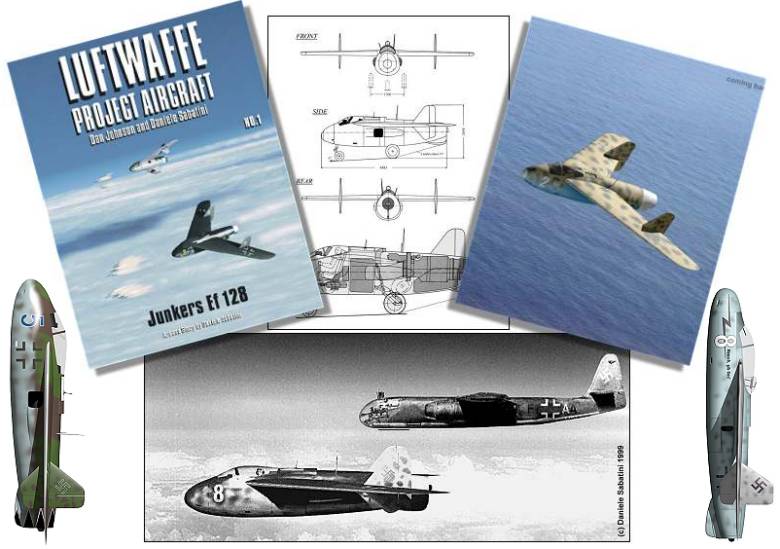 All art on this page © Daniele Sabatini
This is the first in a series (hopefully) of booklets on individual aircraft projects as seen in the webpages of Luft '46.
Booklet number one is on the Junkers Ju EF128 single-seat, He S 011 turbojet powered fighter
(Day and Night fighters are both covered). Examples can be seen above from the booklet.
Since this aircraft never left the drawing board, some of this booklet contains speculation of
hypothetical paint schemes of projected possible individual aircraft. It is our aim to show how
it might have appeared had history been a bit different and the Ju EF128 became operational.
Features:
Size: 8.5 x 11 inches (close to A4 format)
28 pages (all glossy)
8 pages full color, including:
10 full color side profiles of various camouflage and markings schemes
one full color four-view
6 full color art renderings featuring the Ju EF128 in testing and combat

7 pages black & white art and composite photos
4 pages line drawings
3 pages technical data
4 page short story of a pilot's first battle in the Ju EF128
**BONUS** a special surprise insert in each booklet!!
*** New ***
Check out Scott Van Aken's review of the Ju EF128 booklet on his
Modeling Madness Webzine, or click here to see what others are saying
about the new Ju EF128 booklet

The price is $15.95 each, payable in a check or Money Order in US funds. I have made arrangements for those who wish to pay by Credit Card (please note that in your email and I will send details), but I prefer checks or Money Orders please. Shipping in the US is $2.00 First Class, $3.20 Priority Mail.
Please email me for your shipping amount if you are outside of the US.
If you are interested in getting a copy, please email me at:
djohnson@visi.net and I will send you information on where to send your payment.
Thank you very much!

IMPORTANT: Please include your EXACT postal mailing address



Zcounter.com Free Counters