Messerschmitt Me P.1101/99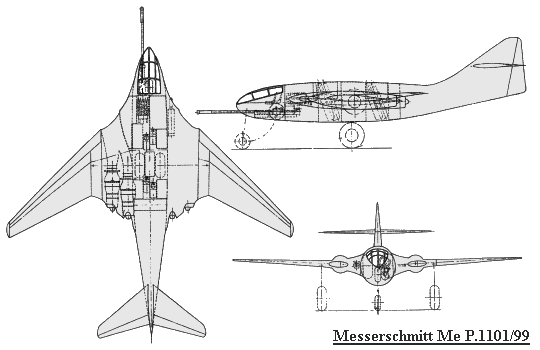 Another of the Messerschmitt P.1101 project series, the P.1101/99 is dated June 6, 1944. The project management and overall design was overseen by Dip;.-Ing. Hans Hornung, who was also responsible for other Messerschmitt projects: P.1092 , P.1101 fighter , P.1112
The fuselage was to be of all metal construction and contained the fuel tanks and most of the armament. 7650 liters (2021 gallons) of fuel could be carried in the fuselage tanks. The wings were swept back at 45 degrees, with four Heinkel-Hirth He S 011 turbojets, each developing 1300 kg (2860 lbs) thrust, buried in the thickened wing roots. Each pair of turbojets were fed by an air intake in the leading edge of the wing. The main landing gear retracted inwards into the fuselage, and the front gear retracted backwards beneath the cockpit. A two man crew sat staggered side-by-side in the cockpit, which was located in the extreme nose of the aircraft. Armament consisted of one 75 mm PaK 40 cannon in the nose and five MK 112 55mm machine cannon. Please see the table below for armament .
This design was considered the ultimate attack and destroyer (Zerstörer) aircraft, and was expected to be in the air by 1948. Because of the worsening war situation in Germany, the design did not progress past the initial design stage.


Messerschmitt Me P.1101/99 Data
Span
Length
Height
Track Width

Wing Area
Empty Weight

Takeoff Weight

Max. Speed
15.4 m
50' 6"
15.2 m
49' 10"
4.9 m
16' 1"

5.96 m
19' 6"
47.0 m²
506 ft²
12730 kg
28065 lbs

18630 kg
41072 lbs

960 km/h
597 mph

Messerschmitt Me P.1101/99 Models
There are no scale models currently of this aircraft
---
Type

Size

Location

1 BK 7.5

7.5 cm PaK 40


left side nose
firing forward

1 MK 112

55 mm


right wing root
firing forward

4 MK 112

55mm


center fuselage
firing obliquely upwards in pairs


The MK 112 55mm cannon was under development and only a few prototypes were finished by the war's end.
Weight: 271 kg (597 lbs) Length: 2012 mm (6' 6")
Rate of Fire: 300 rounds/min
Muzzle Velocity: 600 m/second (1969 ft/second)




MK 112 55mm machine cannon



BK 7.5 75mm cannon (mounted in the Henschel Hs 129B-3)


Above: Henschel Hs 129B-3
The BK 7.5 75mm PaK 40 cannon was fitted to several Luftwaffe aircraft during WWII. Length: 6165 mm (20' 3") Weight: 705 kg (1554 lbs) Rate of Fire: 30 rounds/minute Muzzle Velocity: 790 meters/second (2592 feet/second)




Above: The Heinkel He 177A-3/R5 equipped with a BK 7.5 75mm PaK 40 cannon. Five aircraft were completed with this armament.

Left: A BK 7.5 75mm PaK 40 cannon mounted in a Junkers Ju 88P-1. Since the huge gun affected flight characteristics, an explosive device was fitted so the pilot could jettison the gun and mounting.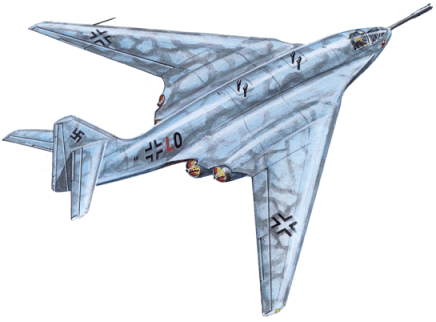 Above color illustration from Geheimprojekte der Luftwaffe Band III - Schlachtflugzeuge und Kampfzerstörer 1935-1945
MK 112 drawing from Me 262 Volume Two - Classic Publications
BK 7.5 drawing from Hs 129 Panzerjäger! - Classic Publications