Still Available
LPA Booklets Page
LPA #2: He 343 Reviews
LUFTWAFFE
PROJECT AIRCRAFT
Number 2: Heinkel 343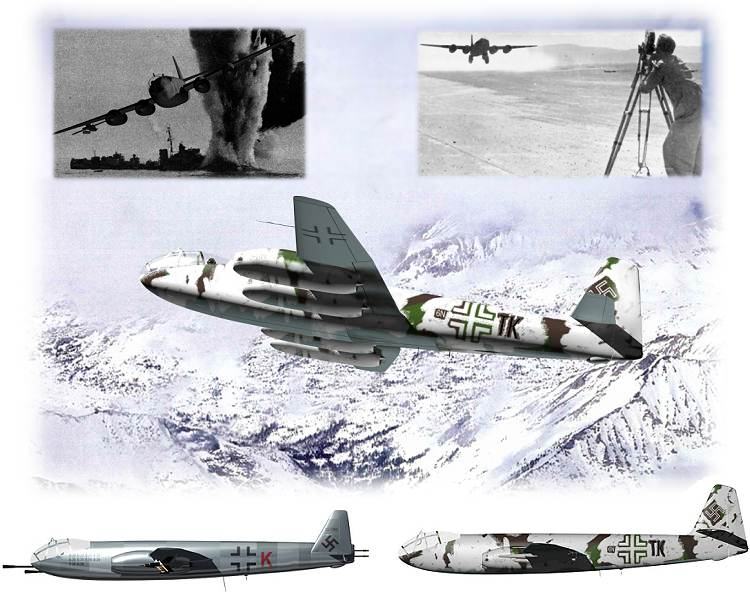 All art on this page © Daniele Sabatini
This is the second booklet in the Luftwaffe Project Aircraft series, and is ready as of Feb 18, 2000.
Covered is the Heinkel 343, and will include the three variants that were actually designed:
bomber, reconnaissance and Zerstörer (heavy fighter), plus a few models not "officially"
sanctioned by the RLM, but which would have been possible had the He 343 made
it into series production. Included will be a complete history of the He 343 development,
drawings of the major subtypes, charts, graphs, color art and B&W "photos".
Some of this information has never been in print before!!
Size: 8.5 x 11 inches (close to A4 format) all glossy pages
7 page history
7 pages of charts and tables of performance data
9 pages of 3 view line drawings of variants (1/100 scale)
8 pages full color (18 profiles, four 3/4 views, one 4 view, 5 color art pix)
7 pages black & white "photos"
2 pages engines and armament
1 page model kits
2 sheet He 343 1/72 paper plane model (included insert)
The price is $16.95 each, please contact Dan Johnson at djohnson138@cox.netfor ordering details
and postage rates
IMPORTANT NOTE:
Please include your exact postal mailing address, it will greatly speed up your order!!
Still undecided? Check out the online review at Modeling Madness
or read some buyer's comments here...
Zcounter.com Free Counters