Messerschmitt P.1095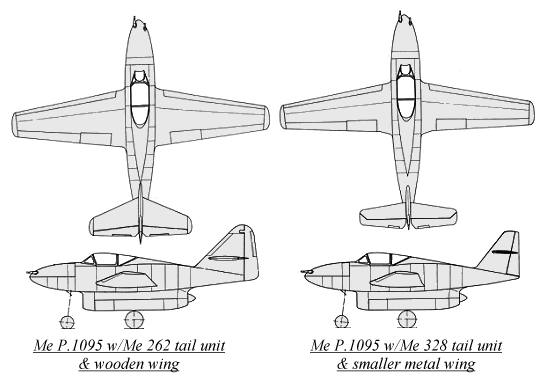 In early 1943, the Messerschmitt design bureau were working on an idea for a single engined, lightweight jet fighter known as the P.1092 series. At the same time, the Argus pulse jet powered Me 328 was also being developed. Whereas neither of these projects ever reached production (the 328 did make it into prototype testing), the experience gained on them was utilized on the P.1095 designs. Dipl-Ing Rudolf Seitz led the design team for the P.1095, and decided to use as many existing components from other aircraft as possible, to cut down the development and retooling time.
The first P.1095 design of October 1943 was proposed in two versions. One was to use the entire Me 262 tail unit (horizontal tail and fin/rudder) along with a wooden wing, the other used the entire Me 328 tail unit (horizontal tail and fin/rudder) along with a slightly smaller all metal wing. Both wing version featured leading edge flaps over the entire span. The two different P.1095 versions used the same fuselage, which included 200 liter (53 gallon) fuel tank between the nose and cockpit, and two 590 liter (156 gallon) fuel tanks directly aft of the pilot. As with many Messerschmitt designs, the radio and other equipment was to be placed aft of the rear fuel tanks ahead of the tail. The powered was provided by a single Jumo 004B jet engine, located below the fuselage. This had the advantage of being easily serviced, but the drawback of the possibility of the ingestion of foreign matter into the intake on takeoff. The undercarriage was of a tricycle design, and the main wheels retracted outwards (600 x 190 mm tires), and were also taken from the Me 309. A forward retracting nose gear was located in front of the engine intake (465 x 165 mm tires), and was tested at the Junkers facilities at Dessau in October 1943 for loss of thrust caused by the landing gear strut. Two MK 108 30mm cannon were to be the main armament and were located in the nose.
There was an additional design from October 19, 1943 for the Me P.1095, which featured an overall differently shaped aircraft with sligtly swept wings, but not many details have survived about this version.
The P.1095 project was discontinued in early 1944, due to the fact that the engine location was felt to be disadvantageous, and the performance was less than the Me 262 twin jet fighter, which was about to come into service. An interesting note, the Me 328 was resurrected at this point as a possible "sacrificial" aircraft, but was not ever used in this role.

Messerschmitt Me P.1095 Data (wooden wing version)
Span
Length
Height
Wing Area
Takeoff Weight
Max. Wing Loading
Max. Speed
9.74 m
31' 11"
9.71 m
31' 9"
3.38 m
11' 1"
15.3 m²
164.7 ft²
3620 kg
7980 lbs
237 kg/m²
48.5 lbs/ft²
860 km/h @ 6000 m
534 mph @ 19685'
Messerschmitt Me P.1095 Models
Manufacturer
Scale
Material
Notes
Planet #017
1/72
Resin & Decals
Solid cast fuselage and engine,
Me 262 tail version
---
| | |
| --- | --- |
| Me P.1095 design of October 1943 with Me 328 tail | Me P.1095 design of October 19, 1943 |
| | |
Color images above from
Geheimprojekte der Luftwaffe
&
Luftwaffe Secret Projects: Fighters 1939-1945