Messerschmitt Me P.1092A-E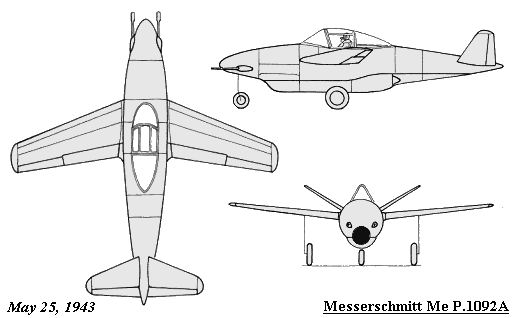 Beginning in May 1943, a series of aircraft were designed under the Me P.1092 designation. Meant to fill a role as a multi-purpose aircraft, five basic designs were submitted:
Me P.1092A - fighter with one turbojet
Me P.1092B - interceptor with one rocket engine
Me P.1092C - high-speed bomber with two pulse jets
Me P.1092D - heavy fighter with two turbojets
Me P.1092E - two-seat nightfighter/ heavy fighter
other designs included roles for long-range fighters, torpedo bombers and dive bombers
The first design, the Messerschmitt Me P.1092A, was a small plane. A single Jumo 004C turbojet was mounted on the bottom of the fuselage and was fed by an air intake beneath the nose of the fuselage. The wings, which were basically the outer wing sections from the Me 262, exhibited a small amount of sweepback (approximately 22 degrees) and were mounted mid-fuselage. A V-Tail (or butterfly tail), provided lateral control, and a tricycle landing gear arrangement was chosen. The main landing gear were located about halfway outboard on the wings and retracted inwards. One possible problem would have been the front landing gear, which would have blocked the air intake on takeoff and landing. A single pilot sat in a cockpit located in the middle of the fuselage, and afforded excellent all-around vision. Armament consisted of two MK 103 30mm cannon in the aircraft's nose.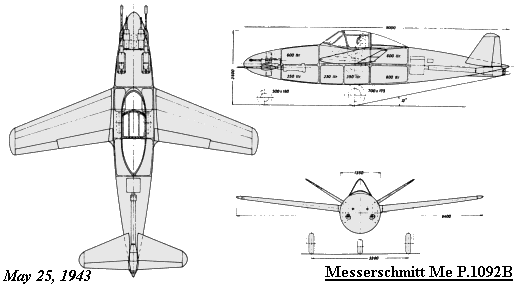 The Me P.1092B was to be an interceptor. It was similar in appearance to the Me P.1092A, with the main exception of the propulsion method. Whereas the P.1092A used a Jumo turbojet, the P.1092B had a rocket motor (probably a Walter HWK109-509A rocket engine) located in the rear fuselage. Six fuel tanks filled most of the fuselage; three held 600 liters, two held 350 liters and one held 230 liters. The tail unit and landing gear was also similar to the P.1092A, but the armament was upgraded to two MK 103 30mm cannon and two MK 108 30mm cannon.
Although none of the Me P.1092A-E designs went any further than the drawing board, a whole new series of designs (also under the P.1092 designation) were begun just a few months later.


Messerschmitt Me P.1092A Data
Span
Length
Height
Wing Area
Loaded Weight*
Max. Wing Loading
8.4 m
27' 6"
9.0 m
29' 6"
2.5 m
8' 3"
12.0 m²
129 ft²
4000 kg
8818 lb
330 kg/m²
67.5 lb/ft²
* Approximate, with 1200 liters (263 gallons) of fuel
Messerschmitt Me P.1092B Data
Span
Length
Height
Wing Area
Fuselage Width
Main Track Width
8.4 m
27' 6"
9.0 m
29' 6"
2.5 m
8' 3"
12.0 m²
129 ft²
1.35 m
4' 5"
3.28 m
10' 9"
Messerschmitt Me P.1092A-E Models
There are no scale models currently of any of these aircraft
---