Messerschmitt Me 509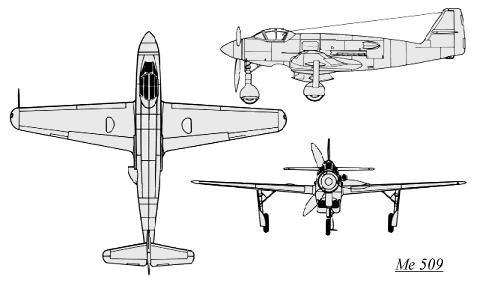 Although the Me 509 can trace its roots back to the Me 309, very little information has survived. The aircraft was to be of an all-metal construction. A new fuselage was designed, with the pressurized cockpit being moved well forward near the nose. The Daimler Benz 605B 12-cylinder engine was buried in the fuselage behind the cockpit, and drove a three-bladed, Me P 6 reversible-pitch propeller by an extension shaft which passed beneath the cockpit (similar to the US Bell P-39). The wing was tapered and had rounded wingtips, and was mounted low on the fuselage. Other Me 309 components were to be used, such as the tricycle landing gear, and the vertical tail assembly was similar to the one used for the Me 309 V1. Armament was not decided upon for the 509, but it is thought that two MG 131 13mm machine guns and two MG 151 20mm cannon were to be used. Although there were advantages of better cockpit visibility and relocation of the engine weight from the nose gear (important, since the Me 309's nose gear often collapsed), the Me 509 design and development was stopped when the Me 309 program was ended in mid-1943.
In April 1945, the Japanese completed a very similar project, the Yokosuka R2Y Keiun. Although no firm evidence exists, it is possible that the Me 309/509 information was licensed to the Japanese military, as were a number of other German designs (Bf 109, He 100, Me 163, Me 410, among others).
Messerschmitt Me 509 Dimensions *
Span
Length
Height
11.27 m
37' 0"
9.94 m
32' 7"
3.98 m
13' 1"
* All dimensions approximate., no
weights or performance data available


Messerschmitt Me 509 Models

| | | | |
| --- | --- | --- | --- |
| Manufacturer | Scale | Material | Notes |
| RS Models #7238 | 1/72 | resin, white metal & decals | includes instrument panel decal |
| Wingnut International | 1/72 | resin | very fine cast kit, almost injection quality |
---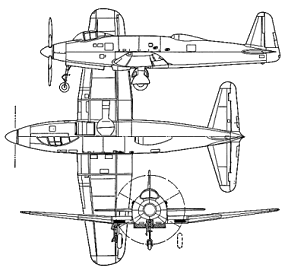 Left: The Yokosuka R2Y Keiun, which was built for the Japanese Navy use, was an aircraft very similar in design to the Messerschmitt Me 509. Its first flight was in May 8, 1945, and was cut short due to engine overheating, a problem that probably would have also faced the Me 509.



Above color illustration from RS Models kit box art