Lippisch Li P.04-106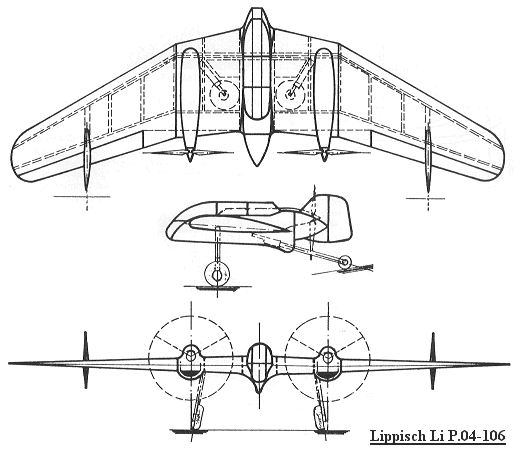 This project (along with the Li P.04-107a and Li P.04-114) was developed under the leadership of Dipl. Ing Rentel during 1939. The Lippisch Li P.04-106 was designed to compete with the Messerschmitt Bf 110 as a two-seat Zerstörer (Heavy Fighter).
Basically, this aircraft was to be built as a flying-wing configuration, although there was a central fuselage section which superficially resembled the later Messerschmitt Me 210 forward fuselage. The wing, which exhibited no dihedral, featured two different wing sweep back angles: 13 degrees from the centerline to just outboard the engine nacelles and 30 degrees to the wingtips. Two Daimler Benz 601E engines (rated at 1200 horsepower each) were mounted in nacelles blended into the wings, each driving a pusher propeller via a short extension shaft.
The main landing gear retracted inwards and backwards into the wing, while the rear tail wheel was extendable. A two man crew that consisted of a pilot and radio operator/rear gunner who faced to the rear sat in the cockpit. Armament consisted of four fixed foward firing MG 151 guns located on the fuselage sides and in the wing roots and two remote controlled MG 131 guns firing to the rear.
The RLM rejected the project with no reason given after basic drawings and performance data was compiled.


View Gino Marcomini's Li P.04-106 Luft Art images

Lippisch Li P.04-106 Data

Span
Length
Height
Main Gear Width
Nacelle Width
Vertical Fin Width
Max. Speed

16.0 m
52' 6"
5.83 m
19' 1"
3.15 m
10' 4"
4.0 m
13' 1"
4.2 m
13' 9"
11.0 m
36' 1"
510 km/h
316 mph

Lippisch Li P.04-106 Models
There are no scale models currently of this aircraft
---
A different three-view of the Lippisch Li P.04-106 showing some internal details.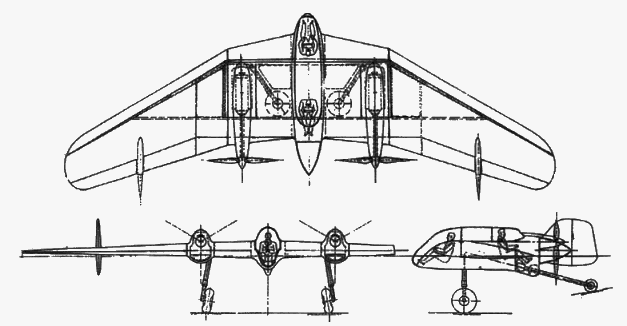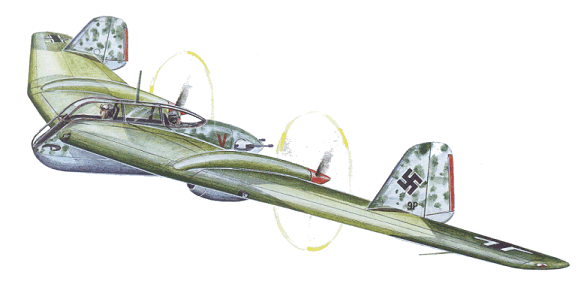 Above color illustration from Geheimprojekte der Luftwaffe Band III - Schlachtflugzeuge und Kampfzerstörer 1935-1945