For Sale Again!
revised and updated edition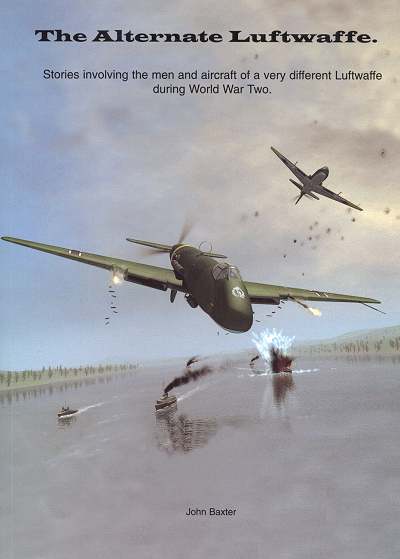 I would like to announce that a friend of mine, John Baxter, has published a collection of his great short stories.If you would like to read about an alternate history of the Luftwaffe, then this is the book for you. With titles like "Stukas Over Suex", "Flitzers in Action" and "Huckebein", you know you have something wonderful here. Ordering information below....

The Alternate Luftwaffe
By
John Baxter
Stories involving the men and machines of a very different Luftwaffe during World War Two.
Features:
22 short stories of alternate history
131 pages of text
10 pages of colour artworks/photos
80 B&W illustrations/photos
Full colour cover
$33.00 Australian plus postage and packaging. All Overseas purchases dispatched by AirMail. Overseas customers please pay via International Money Order or Credit Card for the required amount. Payable in Australian dollars only. All cheques payable to John Baxter. Australian customers please allow time for personal chequea to clear before despatch.
CREDIT CARDS (Mastercard/Visa) accepted.
All Books packed in solid reliable cardboard packets for maximum safety.
Postage and packaging rates:
Australia $4.00
Asia/Pacific $8.00
Europe $17.00
North America $14.00
Available from: John Baxter
23 St. George's Road South
Fitzroy North
Victoria, 3068
AUSTRALIA
Email John at: jjbaxter@techinfo.com.au




Zcounter.com Free Counters