Heinkel He P.1078C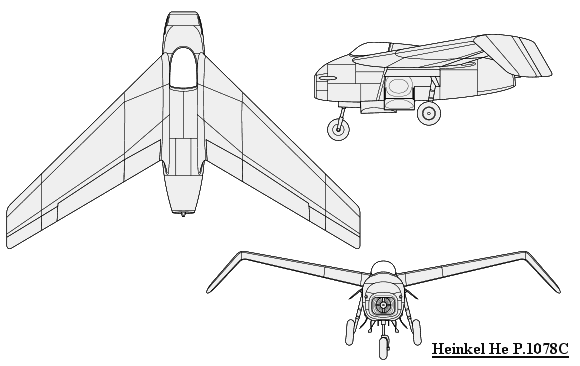 This design was submitted to the Jägernotprogram (Emergency Fighter Program) at the end of 1944. The Messerschmitt Me 262 twin jet fighter was beginning to enter combat, but a second generation of jet fighters were wanted, one that would take advantage of the (soon to be produced) Heinkel Hirth He S 011 turbojet engine. Specifications were issued by the OKL (Luftwaffe High Command), and Heinkel entered their He P.1078C fighter design in the competition for a development or production contract.
The Heinkel He P.1078C had a short, squat fuselage (all metal construction), which contained the single He S 011 jet engine. This engine was fed by a squarish air intake in the fuselage nose, which then led to the engine via a flattened air duct. The wings were constructed of wood (to save weight and resources) and contained the entire fuel supply of 1450 liters (383 gallons) and were unprotected. Featuring a large dihedral, the P.1078C's wings were swept back at 40 degrees and its wing tips were angled downwards. The downward turned wing tips were chosen because it was felt that they would have less influence on the critical Mach number of the wing and have better roll damping than vertical fins. The main landing gear retracted forwards into the fuselage sides, and the nose gear retracted to the rear and rotated 90 degrees in order to lay flat beneath the air duct. A single Heinkel Hirth He S 011 turbojet was mounted in the fuselage rear, and provided 1300 kg (2866 lbs) of thrust. Planned armament at this time consisted of two MK 108 30mm cannon with 100 rounds for each gun, placed on each side of the fuselage below the cockpit.
After all aircraft designs were submitted for the Jägernotprogram (Emergency Fighter Program), some criticism was made of the Heinkel He P.1078C design, mainly concern was expressed about the unprotected fuel tanks in the wings and the short fuselage shape, which in their opinion made it ill-suited for high speeds. Misgivings were also expressed about the wing shape. Heinkel dropped all work on the P.1078C after the February 27-28, 1945 meeting. A decision was made to concentrate more on the Fw Ta 183, Ju EF128, Me P.1110 and Bv P.212 designs.



View Ronnie Olsthoorn's He P.1078C images
Heinkel He P.1078C Dimensions
Span
Length
Fuselage Length

Height
Track Width

Wing Area
Total Area

9.0 m
29' 6"
6.1 m
20' 0"
5.13 m
16' 10"

2.35 m
7' 8"
1.8 m
5' 11"

17.8 m²
191.6 ft²
51.3 m²
522.2 ft²

Heinkel He P.1078C Weights
Empty
Equipped
Takeoff
Landing
Wing Loading
2454 kg
5410 lbs
1466 kg
3232 lbs
3920 kg
8641 lbs
3120 kg
6878 lbs
220 kg/m²
45 lbs/ft²

Heinkel He P.1078C Performances
Max. Speed
Rate of Climb
Takeoff Distance
Landing Distance

Landing Speed

@
sea level
1025 km/h
637 mph
@
10000 m
32808'
770 km/h
478 mph

@
sea level
29.8 m/sec
98 ft/sec



700 m
2296'
640 m
3000'

182 km/h
113 mph
Heinkel He P.1078C Models

| | | | |
| --- | --- | --- | --- |
| Manufacturer | Scale | Material | Notes |
| Airmodel AM-2058 | 1/72 | Resin | nicely casted |
| Merlin #70 | 1/72 | Injected, white metal & decals | raised panel lines, not too bad a kit |
---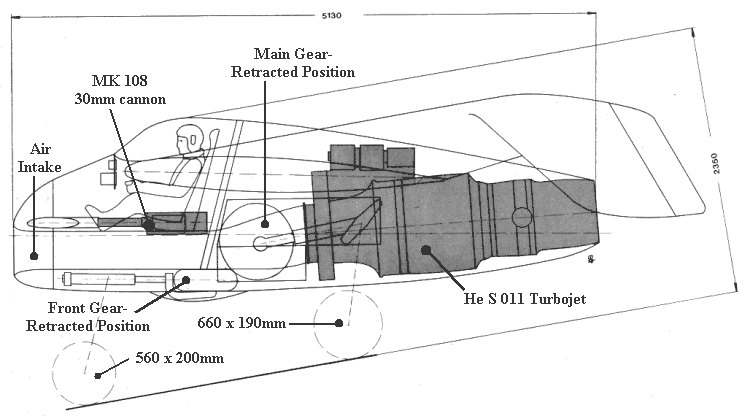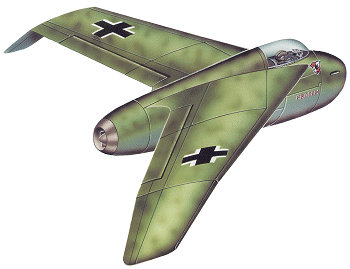 Above Images:
Side view drawing: Courtesy Hanns von Rolbeck
Color image: Luftwaffe Secret Projects: Fighters 1935-1945