Heinkel He 343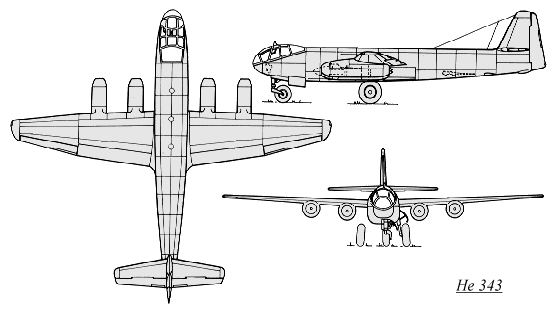 In January 1944, Heinkel was persuaded by Oberstleutnant Knemeyer to begin work on a four-engined jet bomber, that could be ready in the quickest possible time frame. Although Heinkel had been working on a similar project (P.1068), it was decided to take a proven design (Arado Ar 234) and enlarge the dimensions. The He 343 (this designation was submitted to the RLM on March 14, 1944) was to have a 1.55:1 larger wing than the Ar 234, and the linear dimensions were to be increased by 1.25:1. The He 343 was also know unofficially as the Strabo 16 (Strabo was an abbreviation for Strahlbomber (Jet Bomber), and the takeoff weight was to be 16 tons), before the 343 number was issued.
The enlarged fuselage had space for an internal bomb bay and for the newly designed main gear, which were double-braked. The wings were mounted mid-fuselage and were unswept. Four jet engines were to be mounted singly beneath the wings. The flexibility of the He 343 design really came into play here, as virtually any turbojet could be used. At first, the Jumo 004B was to be used, but it was hoped that the Jumo 004C would be ready by the time the He 343 prototype was finished. Also, the BMW 003 or the He S 011 jet engines could be fitted. On the planned production aircraft, the engines needed to be moved forwards a bit to clear the planned single, trailing edge flap. The nose and cockpit was newly designed, and a crew of two was to sit in the pressurized cockpit. The nose gear was also completely new, and was offset 100 mm (4 inches) to the port side from the centerline of the aircraft.
There were four main versions of the He 343 planned, these were:
He 343A-1, which was to be the bomber version. Depending on the engines used, the bomb load ranged between 2000 kg to 3000 kg, with 2000 kg to be carried internally, and 1000 kg to be carried externally. Trials were to be held with the Fritz X radio controlled bomb, which would have also added a third view member. Defensive armament consisted of two fixed rear firing MG 151 20 mm cannon with 200 rounds each, which were mounted in the rear fuselage.
He 343A-2, the reconnaissance version, was to be similar to the A-1, except instead of a bomb load, two Rb 75/30 cameras were to be carried in the bomb bay, along with an additional fuel tank that held 2400 kg of fuel to extend the range. Two fixed rear firing MG 151 20 mm cannon with 200 rounds each, as in the A-1, were mounted in the rear fuselage for defensive fire purposes.
He 343A-3 was the first Zerstörer (Destroyer) version. The standard armament was to be four forward firing MK 103 30mm cannon with 400 rounds each, which were mounted in the bomb bay, or two forward firing MK 103 30mm cannon with 100 rounds each and two forward firing MG 151 20mm cannon with 200 rounds each. Weapons with calibers of up to 50 mm could be used, although all the forward firing guns had to be placed to fire from the starboard side under the fuselage nose, due to the nose wheel which retracted to the rear and was on the port side. Again, like the A-1 and A-2 variants, defensive armament consisted of two fixed rear firing MG 151 20 mm cannon with 200 rounds each, which were mounted in the rear fuselage.
He 343B-1, which was also to be a Zerstörer (Destroyer), the main difference was that instead of the two fixed rear firing guns in the fuselage rear, a FHL 151Z remote controlled turret was installed in the extreme rear fuselage. This necessitated a tail redesign to a twin fin and rudder set up. A rear facing periscope in the cockpit was used to aim the FHL 151Z turret, which was armed with two MG 151 20mm cannon. The twin tail would have made for extended flight testing, plus would have added additional weight and drag.
Although the RLM sanctioned 20 total He 343 aircraft (including prototype and pre-production examples), they were never very enthusiastic about Heinkel's four jet bomber. Plus, the He 343 was in a battle for a contract with Junkers' forward swept wing 287, also a four jet bomber. Professor Heinkel went so far as to write a very opinionated letter to the RLM, touting the 343's quicker development time, lower material cost and basic simplicity, but it was to no avail. The He 343 program was stopped in late 1944*, and all finished components and construction jigs were either put into storage, or scrapped, due to the worsening war situation, in which all aircraft construction was to be concentrated on fighter aircraft.

*Some sources state that a prototype He 343 was completed, but was either destroyed in a bombing raid or was scrapped before the first test flight.

View Heinkel He 343 model photos

View Josha Hildwine's He 343 Luft Art images

Heinkel He 343 Dimensions**
Span
Length
Height
Wing Area
18 m
59' 1"
16.5 m
54' 2"
5.35 m
17' 7"
42.25 m²
454.78 ft²
Heinkel He 343 Weights
Empty
Fuel
Equipment
Crew
Bomb Load
Takeoff
9068 kg
19991 lbs
5490 kg
12103 lbs
1187 kg
2617 lbs
200 kg
441 lbs
2000 kg
4409 lbs
17945 kg
39562 lbs
Heinkel He 343 Performances
Max. Speed
Rate of Climb
Ceiling
Max. Range
Takeoff Run
Landing Speed

@
sea level
825 km/h
513 mph
@
6000 m
19685'
835 km/h
519 mph
@
10000 m
32808'
770 km/h
478 mph

@
sea level
15.3 m/sec
50.2 ft/sec
@
6000 m
19685'
7.4 m/sec
24.3 ft/sec

10000 m
32808'
1620 km
1007 miles
1425 m
4675'
168 km/h
104 mph
**Dimensions, weights and performance data are for the Jumo 004C equipped, single vertical fin version
Heinkel He 343 Models

| | | | |
| --- | --- | --- | --- |
| Manufacturer | Scale | Material | Notes |
| Airmodel AM0107 | 1/72 | Vacuform & Resin | Includes single and twin tail parts |
| Planet #042 | 1/72 | Resin & Decals | |
---
Heinkel He 343A-1 Bomber

Heinkel He 343A-2 Reconnaissance



Weapon arrangement of 4 MK 103 in the
fuselage for use as a Zerstörer (Destroyer)
Heinkel He 343 V testing
V1 Work Number 850061
Basic prototype without bomb dropping equipment. Design documents
up to April 15, 1944 are supplied.
V2 Work Number 850062
Basic airframe for flight and engine testing. Will be reconstructed for diving tests
after the first flights. Constructed according to the plans delivered on the 19th of
April. The delivered catapult assemblies will be installed later.Two catapults units
will be built.
V3 Work Number 850063
Version supplied for weapons, radio and navigation testing. An example with
the new Destroyer cockpit featuring armoured glass is provided to contrast
against retrofitting of double glazing. Simplified undercarriage with a reduced
track width. Design documents are supplied up to June 30, 1944. Documents are
supplied that relate to armouring and double glazing up to July 30, 1944.
V4 Work Number 850064
Version for released weapons test, including the Fritz-X radio controlled bomb.
Similar to the V3, except the bomber conversion is to be added, along with a
third seat. Design documents covering the period up to 15th August are supplied.
Six bomber conversion kits have been constructed to date.
V5 Work Number 850065
Version for high altitude flight testing. All rivets to be flush riveted for
range extension testing.
V6 Work Number 850066
Version for material substitution. Sample supplied as per destroyer version,
with wood surfaces, steel cross beams and plastic control units.
V7 Work Number 850067
All versions to be similar to V3 example.
Original Heinkel nose wheel drawings in 1:5 scale, dated April 4, 1944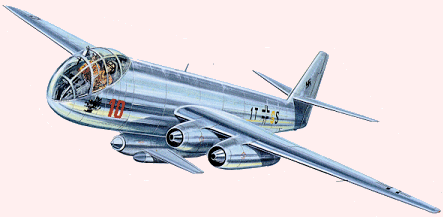 Images, top row: Luftwaffe 1946 - Wydawnictwo Military #12, Jet Planes of the Third Reich - Monogram Aviation Publishing
bottom row: Geheimprojekte der Luftwaffe Band II: Strategische Bomber 1935-1945 - Motorbuch Verlag