Focke-Wulf Twin-Engine Jet Fighter Project of November 1944 (Fw 250)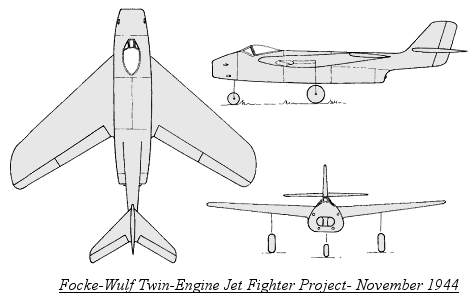 This Focke-Wulf project was submitted by Professor Kurt Tank in late 1944 for a twin-jet fighter which could be used as a fighter, fighter/bomber or long-range fighter, and was to be constructed entirely of metal. The RLM number of 250 was assigned to this project, which had previously been held by the land version of the hugh Blohm & Voss BV 238 flying boat.
The fuselage was wide, to accommodate the nose air intake for the twin Heinkel Hirth He S 011 jet engines that were buried in the rear fuselage. The wings were swept back at 40 degrees, with the main landing gear retracting inboard into the wing. Mounted on a "boom", the tail unit was set high in order for the jet exhaust. A single pilot sat in a pressurized cockpit located near the nose. Armament consisted of four MK 108 30mm cannon or four MG 213 20mm cannon. Also, a droppable load (supplemental fuel container) of 1000 kg (2200 lbs) could be carried by the long-ranged fighter variant.
Further testing and work would doubtless have been needed on this project, for example, the long air intake would have resulted in a loss of power, but this could have been overcome by using leading edge or wing root air intakes instead. Even though it would have been superior in climb and turning ability than the similar Messerschmitt 262 HG III, the Focke-Wulf project would have been slower and would have a longer design-to-prototype time than the Me 262 HG III. All design work was ceased in order to concentrate on Focke-Wulf's Ta 183 single jet fighter. The information learned during this project's design was later used in the Fw J. P.011-45 and Fw J.P.011-47 jet powered night and all-weather fighter projects.

Fw Jet Fighter Project of 11/44 - Dimensions
Span
Length
Height
Wing Area
Aspect Ratio
12.5 m
41' 0"
12.75 m
41' 9"
4.06 m
13' 3"
39 m²
419 ft²
4 : 1
Fw Jet Fighter Project of 11/44 - Weights
Fighter
Fighter/Bomber
Long-Range Fighter
Loaded
7400 kg
16313 lbs
9000 kg
19841 lbs
8850 kg
19510 lbs
Max. Wing
Loading
190 kg/m²
38.9 lbs/ft²
231 kg/m²
47.3 lbs/ft²
227 kg/m²
46.4 lbs/ft²
Fw Jet Fighter Project of 11/44 - Performances
Fighter
Fighter/Bomber
Long-Range Fighter
Max. Speed @
8000m (26250')
1078 km/h
669 mph
1074 km/h
667 mph
1068 km/h
663 mph
Initial Rate
of Climb
25.4 m/sec
83 ft/sec
20.6 m/sec
67 ft/sec
20.2 m/sec
66 ft/sec
Max. Range @
11000m (36000') *
1370 km
851 miles
1640 km
1019 miles
2440 km
1516 miles
Max. Endurance @
11000m (36000') *
2.17 hours
2.48 hours
3.78 hours
Service Ceiling
1500 m
49000'
14500 m
47500'
14000 m
46000'
* Max. economic cruise rate
Fw Jet Fighter Project of 11/44 Models
There are no models currently of this aircraft
---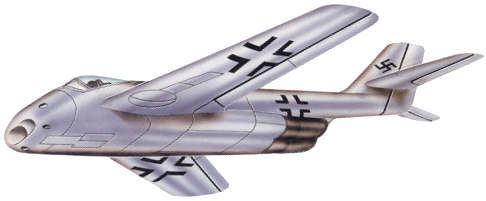 Above image from Luftwaffe Secret Projects-Fighters 1939-1945
by Schick & Meyer