Dornier P.174/Do 216
Dornier developed this flying boat project after their Do P.192/ Do 214 project was cancelled by the RLM in June 1943. It started its design life under the designation P.174/I, but was given the Do 216 number by the RLM later. Intended for an anti-shipping role, the 216 could be fitted out for other purposes also.
Basically, the Do 216 was similar to the Do 214, but had only a single interior deck inside the fuselage instead of the two found on the Do 214. The wing planform was also similar, with a tapered leading edge and a straight trailing edge. Four Jumo 223 24-cylinder diesel engines (2500 horsepower each) were the proposed powerplants; two engines each were located in a wing nacelle blended into the wing, one pulling and one pushing. The Do 216 was manned by a crew of ten, and there were to be seven remote-controlled gun stations located at various place along the fuselage. Offensively, the 216 could carry up to a 5000 kg (11020 lbs) weapons load, which included various guided weapons mounted in underwing racks.
Other versions of the P.174 were designed, with the same basic dimensions, only to be powered by six Daimler Benz DB 603C 12-cylinder, liquid-cooled, inverted V engines (1750 horsepower each). This flying boat project was also cancelled by the RLM, the reason given was that there was no need for a seaplane of this type.

Dornier Do P.174/I / Do 216 Data
w/ 4 Jumo 223 24-cylinder diesel engines
Span
Length
Height
Wing
Area
Empty
Weight
Loaded
Weight
Max.
Speed
Cruising
Speed
Landing
Speed
Rate*
of Climb
Service
Ceiling
Range
48 m
157' 6"
42.3 m
138' 9"
7.9 m
25' 11"
310 m²
3337 ft²
40000 kg
88185 lbs
85000 kg
187393 lbs
445 km/h
277 mph
415 km/h
258 mph
132 km/h
82 mph
1000 m
3281'
7500 m
24606'
4100-
6700 km
2548-
3853 miles
* indicates initial rate of climb in 4 minutes time

Dornier P.174/Do 216 Models
There are no models of the Dornier P.174/Do 216 available at the present time
---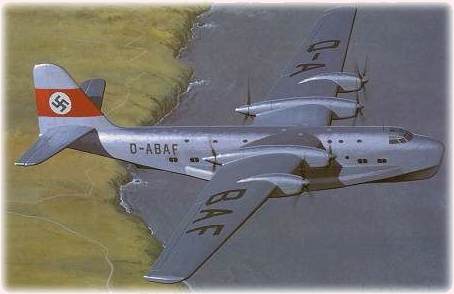 Left: Do 216 w/ 6 DB 603C engines
by Keith Woodcock, from
Monogram Monarch #2: Dornier 335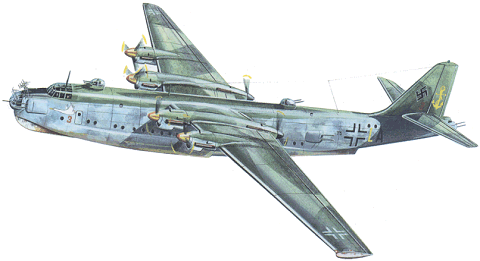 Right: Dornier Do P.174/II w/ 6 DB 603C engines
Image from Luftwaffe Secret Projects: Strategic Bombers 1935-1945