Arado designed this aircraft in 1936 as a heavy fighter with a short, gondola-like fuselage and the Daimler Benz DB 603 engines mounted on twin nacelle/tailbooms. The upper turret had a seat and was armed with twin 20mm Rh LB 202 cannon, while the bottom turret was controlled from the prone position using a periscope for aiming. A crew of four was projected, and a full sized mock-up was constructed before cancellation of the project.
No span, length or max. speed available for this project.....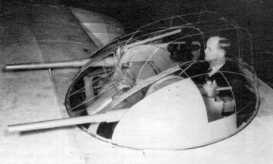 This a photo of the twin 20mm cannon armed turret on the Arado Ar E.500 mock-up.